Would you like to try nutritious scrambled eggs that are not made using regular eggs? Wondering what we are talking about? Hold on till we reveal more. Without jumping on to labels like vegan or vegetarian, the alternative protein industry is looking at plant-based options for everyday consumers, and one such option is the plant-based egg.
"We are impact-focused entrepreneurs who want to make a change in the way people eat. But because of my hospitality background, I realised that bringing that change would not be easy unless you give them options that are delicious, affordable, and have some benefits. It is very difficult to change habits. That's when Kartik (Dixit, co-founder) and I started working together. We decided to come up with an egg completely made from plants," explained Shraddha Bhansali, co-founder, Evo Foods, which is offering "India's first 100 per cent plant-based liquid egg".
Eggs are amongst the most prevalent animal-based foods in India, consumed across regions and religions.
While Bhansali is a vegan who operates a vegetarian restaurant in Mumbai, Dixit — an environmental vegan (for three years now) — has previously worked in an online grocery delivery platform and cultivated a meat company (where he got familiar with greenhouse emissions owing to animal-based agriculture) before building Evo Foods, a company backed by Shark Tank CEO Ryan Bethencourt and Mark Cuban backed revolutionary pet food company Wild Earth Inc.
What is the liquid egg made of?
The plant-based egg extracts proteins from legumes and other plant sources to "create a clean protein" — resembling a beaten egg — which is touted to be an alternative to the traditional chicken-derived egg.
The liquid egg is made of chickpeas, peas, and mung beans. According to the company, one can use them in recipes like scrambled eggs, omelette, egg rolls, frittatas and more.
"The extracted proteins are processed in the texture of eggs. We wanted to showcase that simple household ingredients can give you the required nutrition wherein 100ml is 12 grams of protein — which amounts to two eggs, which almost equals an organic egg," Bhansali told indianexpress.com.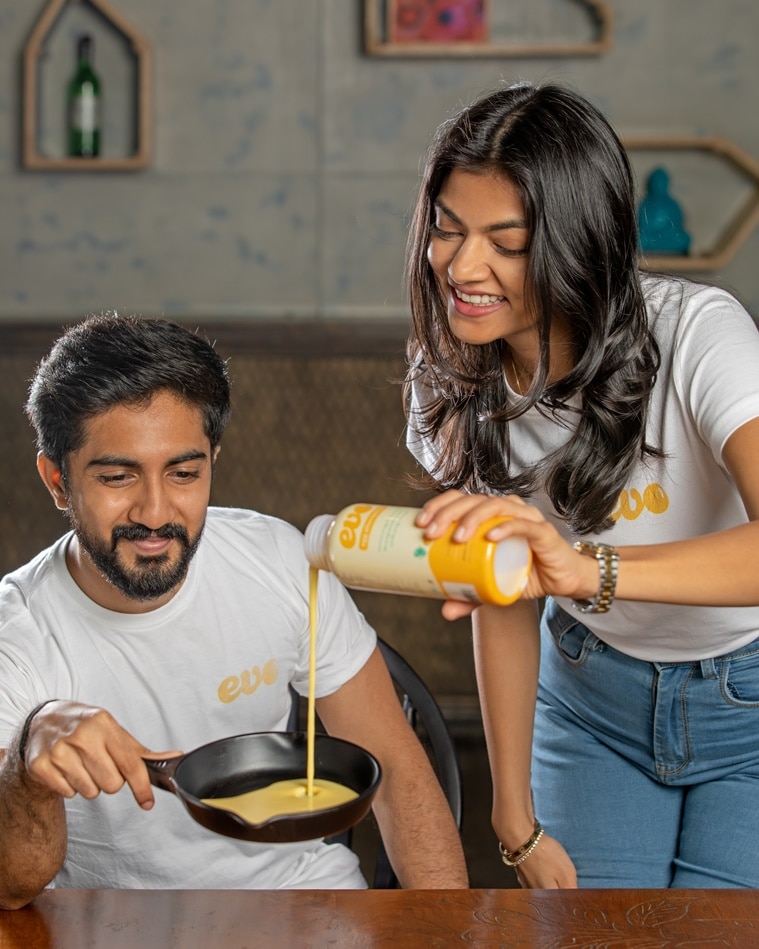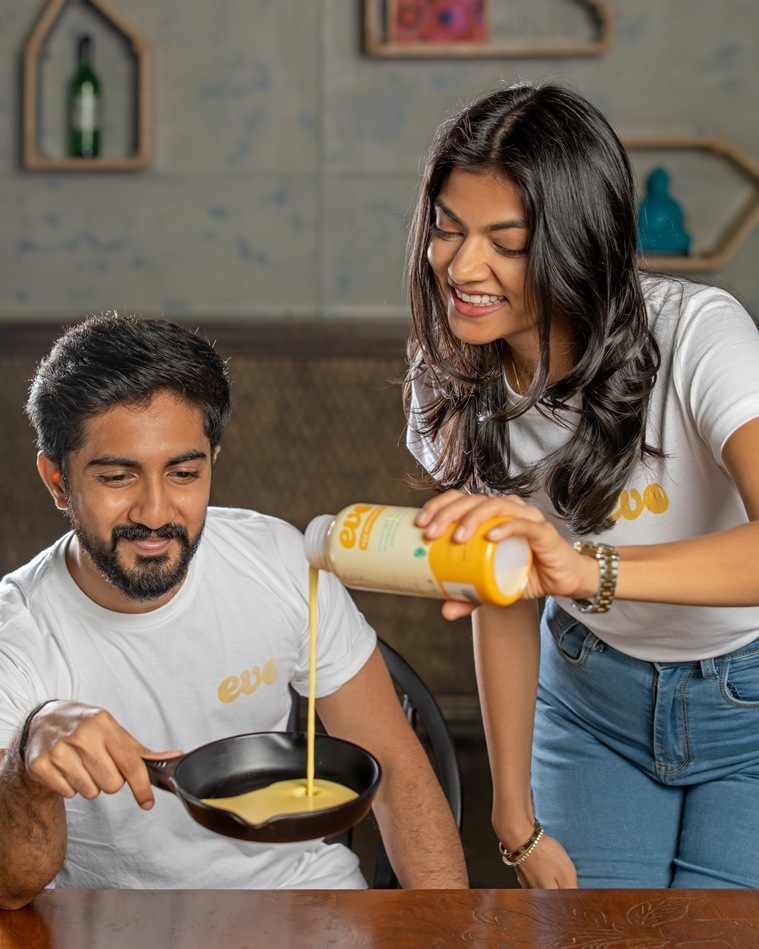 The co-founders Shraddha Bhansali and Kartik Dixit with latest product- plant-based eggs. (Source: EVO Foods)
Headquartered in Mumbai, EVO "uses deep food science" and advanced plant biochemistry to "create a sustainable yet delicious evolved egg replica without cholesterol, antibiotics or any animal cruelty".
Interestingly, the co-founders derived the name of the company by tweaking the Latin word Ovo which means eggs to make it into an "evolved" egg.
The product, which has already gained international and local traction, is slated to launch soon in restaurants in Mumbai, followed by Delhi and Bengaluru, before being available for online purchase October 2021 onwards, shared Bhansali, adding that the price range would be similar to regular eggs.
"You can't use the template of the West when it comes to our eating habits. Eggs are still in an interesting space where some eat them whole, others only in cakes or bread. But eggs are for everyone. We thought it is a great way to introduce Indians to plant-based revolution," said Bhansali, who was featured in the 30 under 30 entrepreneurs list by Forbes in 2018.