TASE-traded MeaTech Ltd., the Israeli startup that is developing technology for bioprinting meat using stem cells, announced on Sunday that it is investing a million euros in Belgian company Peace Of Meat (POM), a B2B supplier of cultured fat, produced from animal cells.
The investment decision followed MeaTech's announcement last month that it had signed a memorandum of understanding on the acquisition of the then-unnamed company for $17.5 million, as part of the company's strategic plan for implementing cell-based agricultural technologies. The Belgian company has developed a proprietary stem cell-based technology to manufacture fat without harming animals.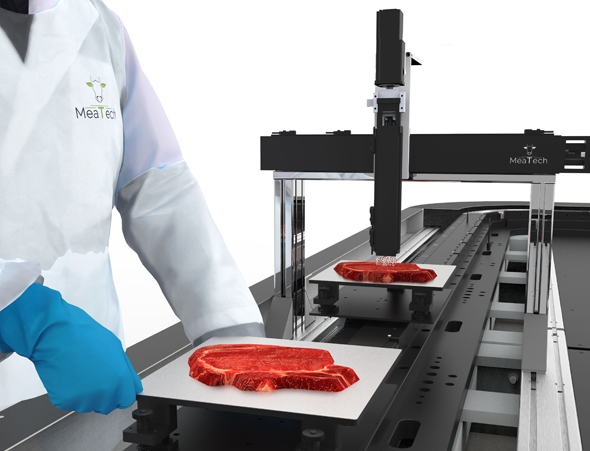 MeaTech's 3D meat printer. Photo: PR
MeaTech plans to leverage POM's cultured fat technology to expand its own range of cell-based products by accelerating the development of cultured fat products and shortening its time to market.
"This is a synergistic acquisition that helps expedite the development process and opens a wide range of opportunities for the production of cultured fat, which in itself is a high demand product. This acquisition will reduce the time it will take us to achieve initial sales in the target markets," MeaTech's co-founder and CEO Sharon Fima said.
"Hybrid products such as vegetarian hamburgers made with cultured fat may turn out to be exciting new product categories. These fats can provide smells, flavors, and textures that improve on the existing plant protein-based products. The acquisition will provide MeaTech with important new technological capabilities to diversify its core range of products," said MeaTech's chairman Steve Lavin.