At the end of 2019, the inaugural six food-based start-ups chosen to be a part of Mars Food Australia's Seeds of Change Accelerator program "graduated". Those chosen were: Spiralz Fermented Foods; The Australian Superfood Co; Edible Bug Shop; Human Connection Project: Fable; and Grounded.
In May last year, Mars launched its ambitious project with no fixed idea on how it would look at its end. The six start-ups were chosen for an intensive four months, working with Mars and Food Innovation Australia Limited (FIAL) from more than 224 applicants.
The rigorous program included mentoring, market analysis, branding work, product and strategy development and financial investment of $40,000 in their businesses. Its goal was to fast-track the start-ups' growth, help build skills to develop innovative products and access new markets.
Just before Christmas, the six came together for a "graduation" and final presentation to potential investors, partners, industry representatives, program mentors and advisers.
The most dramatic outcome was for Matt Boyce and his company the Human Connection Project. When Boyce was selected, his business was called Your Prep and aimed to bridge the gap between nutritious, healthy meals and anxiety and depression. Prompted by the documented link between gut health and mental health, Boyce's original vision was to provide dietician-designed, chef-prepared, cooked meal components direct to the customer to help maximise family time and human connection via easy-to-access nutrition.
Four months later, Your Prep has developed into the Human Connection Project, a multi-layered social enterprise endeavouring to make dinner time matter through education and facilitation.
Boyce says: "We went in with a food business, and we graduated with a totally different proposition – a multi-layered social enterprise with a clear set of guidelines and directions"
"The accelerator has been a sensational experience, and quite literally life altering. We started with one food prep pillar and a scattergun approach, but we now have four clear pillars including community and education that work in sync to help us play a critical role in connecting people in a digital world where we are more disconnected than ever.
"We lose nine Australians a day to suicide, and human connection needs to be bigger part of our lives."
For plant-based cheese company Grounded, the program set them up to take the next, large, step. Co-founders Veronica Fil and Shaun Quade have moved to New York as a participant in the US venture capital fund and start-up accelerator Big Idea Ventures.
Fil says: "The Mars Accelerator has completely changed the path of our lives. Up until the program, we were just doing the vegan cheese thing as a bit of a side hustle. It was amazing having a whole team of mentors and advisors purely focussed on making us a success, and we really needed knowledgeable people who could steer us in the right direction.
"As a result, we went from nearly selling half our business to a mate for $30,000 to securing US$200,000 in pre-seed investment, which has taken us to New York to develop our products for an international market."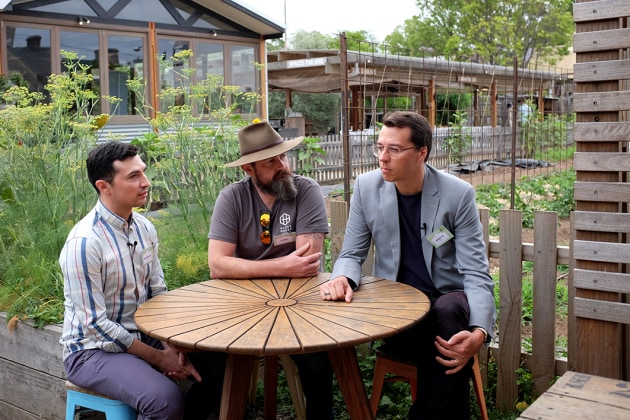 The accelerator was what brought the team behind the Fable Food Co together. Michael Fox was independently researching plant-based meat alternatives with mushrooms when FIAL connected him with mushroom farmer Chris McLoghlin and mycologist Jim Fuller, who were doing the same thing. Using shredded shiitake mushroom stems as the base ingredient, Fable offers an environmentally sustainable and healthy meat alternative, which they claim is superior in taste and texture to other vegetable protein products on the market.
The accelerator helped the team fine-tune its packaging and design as well as the product. They are now supplying Marley Spoon, airlines and restaurants all over the world. They have raised $1.5 million and the endorsement from uber chef Heston Blumenthal, who launched the product at his Melbourne restaurant, Diner by Heston, in December.
Fox told Food & Drink Business they had been surprised with how helpful Mars was and how generous the team was with its time. "Before we started, we had no brand and no sales or distribution systems," he said.
Mars Food Australia research and development director and accelerator mentor, Peter Crane said it had been a learning journey for the start-ups and the team at Mars.
"We started the accelerator because we're committed to nurturing the next generation of food innovators and were overwhelmed with the response. We selected a group of open, coachable and agile founders prepared to come with arms wide open to new possibilities," Crane said.
Crane told Food & Drink Business the program has been a remarkable experience. The enthusiasm and drive of the start-ups reminded Mars staff about what is possible in food innovation and about pushing the boundaries on new product developments.
"All of the start-up founders have responded amazingly – taking on feedback and pivoting their business models where needed.
"The world is changing at a rapid pace, with consumer needs evolving and technologies transforming business. We hope the Accelerator acts as a catalyst to help forward-thinking innovators – big and small – bring their purpose-driven food-focused visions to life. And to remind us all about the value of relationships and networks if we want to make change happen," he said.
For Crane, Seeds of Change has reminded him about the power of relationships and the importance of stepping out of your comfort zone and taking risks. The rewards are immense, he says.