While there are several vegans in the world, clean meat companies like Shiok Meats can be an option for meat lovers who are struggling to quit meat and looking for alternatives during their transition. Although not vegan, cell-based meats are sustainable ways to produce meat. Singapore-based Shiok Meats is a first-of-its-kind cell-based, clean meat company that aims to deliver delicious, crustacean meats (shrimp, crab, lobster) by harvesting from cells instead of animals. The company is all set to become the world's first producer of commercially viable faux minced shrimp after it raised 92+ crores INR (12.6 million USD) in Series A funding led by sustainable aquaculture-focused fund, Aqua-Spark. Shiok, which means "delicious" in Singapore and Malay slang is the first cell-based meat company in Southeast Asia and the only cell-based meat company working on shrimp. It has plans to start production with cell-based shrimp, and is working to produce cell-based versions of lobster and crab. Shiok Meats has been developing lab-cultured shrimp cells as a substitute for shrimp meat (farmed and natural). The clean meat co. informed it has plans to use funds from the latest funding to build a commercial pilot production plant that is expected to start produce a faux minced shrimp product in 2022.
Among the products, it will first produce frozen cell-based shrimp meat for dumplings and other dishes. It also has plans to manufacture shrimp flavouring paste and powder, fully formed 3D shrimp, and cell-based lobster and cell-based crab products. The company is targeting consumers markets in Asia-Pacific region and U.S.A. Shiok Meats touts its cell-based shrimp, which it grows from stem cells in a serum-free media, as a "clean, traceable alternative to the shrimp farming industry". Shiok claims that its patent-pending technology can grow crustaceans – including lobster and crab – four times faster than conventional production.
In order to drastically cut down the production cost of its faux minced shrimps from 300$/kg to 50$/kg by 2021, Shiok signed a deal to use new technology from Japanese cell-based meat company IntegriCulture. It believes the meat will be commercially palatable at 50$/kg, i.e. Rs 3,660/kg (approx.)
The latest capital came from investment fund Aqua-Spark that has invested in 20 complementary companies and technologies since its inception in 2011. It's mission is to transform the global aquaculture industry into one that is healthier, more sustainable, and more accessible.
Investors in the funding round also include SEEDS Capital, the investment arm of Enterprise Singapore; Japan's Real Tech Fund and Toyo Seikan Group Holdings; Iron Grey, a global tech investing family office based in South Korea; Yellowdog Empowers Fund; Singapore's Ilshin Holdings and Makana Ventures; Veg Invest Trust; Beyond Impact; AiiM Partners; Kelvin Chan Siang Lim; and Alex Payne and Nicole Brodeur. The new funding comes three months after the company raised $3 million in a bridge-financing round led by Agronomics, a U.K.-based alternative meat investor; VegInvest, a U.S.-based slaughter-free investment firm; Impact Venture, a U.K.-based angel fund; and the UAE's Mindshift Capital Fund.
Shiok Meats was founded by stem cell scientists Dr. Sandhya Sriram and Dr. Ka Yi Ling, who have 20+ years of experience combined in the fields of muscle, fat and stem cell biology. Dr Sandhya Sriram is the company's CEO and Dr Ka Yi Ling the company's Chief Scientific Officer.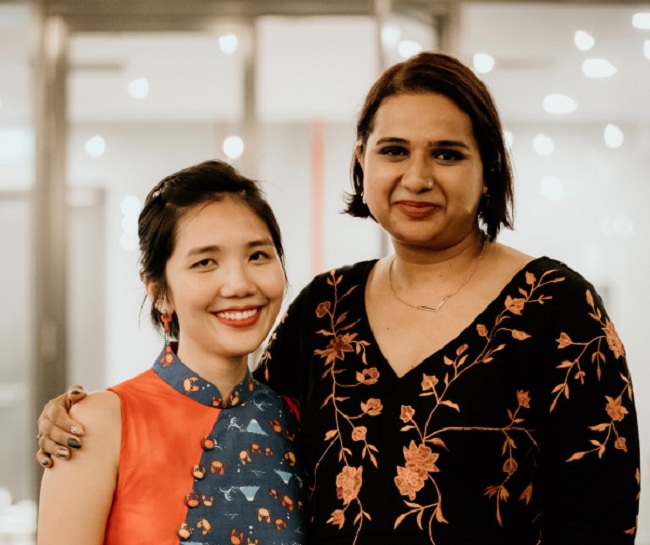 Dr Ka Yi Ling & Dr Sandhya Sriram 
One of Shiok's key objectives is to lower the cost of producing lab-grown shrimp. One lab-grown shrimp product produced by Shiok costs a hefty $300 to produce. Shiok wants to cut this to $50 per kilogram by 2021. It believes the meat will be commercially palatable at that price.