Betty Lu doesn't just want to get you to eat your veggies, she wants to change the world while doing so.
The founder of Confetti Fine Foods was snacking on yet another protein bar while hiking on a mountain in British Columbia, Canada a year ago, when a moment of ennui turned into a moment of entrepreneurial inspiration. She wondered if she could create the "perfect snack", which she defines as "something that is tasty and true to my Singapore roots, and at the same time very nutritious, so people enjoy plant-based goodness on the go."
She began cooking up colourful vegetable chips from her home kitchen in Canada and giving them out to neighbours and friends to try, before returning to Singapore earlier this year to start Confetti Fine Foods. The result of her experimentation is Trishaw Treats, a collection of gluten-free snacks made from nutrient-dense vegetables in Singapore heritage flavours that is marketed as being free of trans-fat, cholesterol and MSG.
Each bag tears open to reveal a crunchy and nutritious low-starch mix of vegetables in Singapore heritage flavours like Malayan Grilled Satay, Peranakan Sweet Chilli and Fragrant Green Curry. The multi-coloured radishes, carrots, green beans, purple sweet potatoes, red apple slices, fingers of okra and plump whole Shiitake mushrooms are a visual feast, a feature designed specifically to entice people to eat more vegetables, says Lu. "And they're popular for parties because they really liven up the table."
But going into the snack business, Lu was always concerned about sustainability and making sure her product has a way of giving back to world. Despite the convenience they offer, grab-and-go snacks usually incorporate wasteful non-recyclable packaging, chemical-laden materials or unhealthy deep fried cooking techniques – hardly in keeping with eco-friendly standards. Lu wanted to rethink the way people approach snacking with her healthful take on chips, innovative sustainable packaging and social responsibility efforts.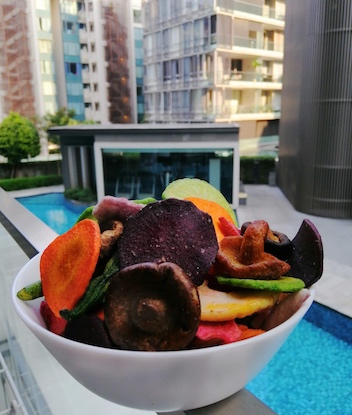 What was the thought process behind creating vegetable chips?
I found that a lot of people don't get enough vegetables in their diet because they don't have time to properly prepare nutritious meals due to their hectic schedules, so my aim was to make vegetables very tasty and provide a convenient way for people to get their vegetables on the go. We consolidated an assortment of nutrient dense, low starch vegetables, and refined a trade secret process of dehydrating and crafting them at about 86°C to retain and maximise the nutritional profile of the vegetables. This makes it a treat for people to eat their colours – it's important to eat a wide range of plant-based colours because each vegetable provides a different set of phyto-nutrients and vitamins.
Why did you decide on these very Southeast Asian-inspired flavours for Trishaw Treats?
I wanted to craft a range of gourmet snacks that are tasty and true to my Singapore heritage roots which is, at the same time, very nutritious. So, I experimented with natural spices inspired by Singapore flavours like Malayan Grilled Satay, Peranakan Sweet Chilli and Fragrant Green Curry. Each flavour is paired with a complementary blend of vegetables, for example, the green curry flavour incorporates sliced okra as they go well together. We've also used archived images of Singapore from the 1920s to 1950s for our packaging so that someone snacking on our chips in California or Brussels will not only get a taste of Singapore but also see that Singapore has a history and a beautiful story.
Speaking of packaging, what does it mean that the packet is 100% home compostable?
This means that if you bury our bags in the ground, they will completely compost into fertiliser within 12 to 26 weeks. It took me a long time to find our supplier in the UK which makes this compostable packaging. We wanted to make sure that our bags would return to the soil or ocean, and be released into the environment as non-toxic elements, and show the consumer food industry that we can produce snacks in a very sustainable way that is gentle on the environment.
It sounds like sustainability is an important value of Confetti Fine Foods. What else are you doing in this respect?
The next step for us is to look at using 'ugly' vegetables and fruits that don't make it to supermarket shelves due to aesthetic reasons. About a third of the planet's food goes to waste, often because of its looks. That's enough to feed two billion people. While we throw out 2.9 trillion pounds a year globally, nearly 800 million people worldwide suffer from hunger. That is insanity. Although these veggies and fruit may come in strange shapes, they are still highly nutritious. So rather than throwing them out, why don't we use these vegetables and fruit, slice them up and craft them into delicious snacks and give world consumers a much healthier alternative to potato chips?
You're also working with humanitarian organisations to bring Trishaw Treats to developing countries. Why is this a cause close to your heart?
As much as profitability is important to a business, it is a means to something more meaningful. We want to make the world a better place. We will be working with global humanitarian organisations such as the Red Cross, The Hunger Project and UNICEF to donate a portion of our nutrient-dense chips to help alleviate hunger and malnutrition in the poorest regions of the world. Some communities in these regions face prolonged drought due to global warming and are unable to grow or have scarce access to fresh fruit and vegetables which severely limits their nutrition. We aim to donate a tasty supply of nutritious chips that are shelf stable for a year, which can supplement their vitamin intake. In the course of my extensive travels, the world has taught me so many things. The nutrient dense gourmet snack concepts by Confetti is my way of paying tribute and giving back to this beautiful planet.